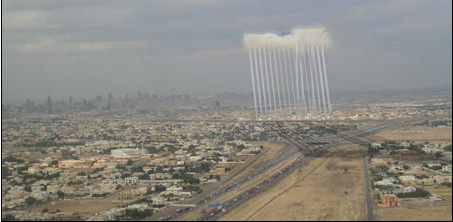 (This posting was inspired by an email dialogue with my friend, and architectural aficionado, Bill Bauer. He is always pointing out interesting new slants on architecture as a design experience).
Lebanese architect Nadim Karam's resort in the sky concept is simultaneously highly creative and a blight on the land it may someday touch. Karam presented the concept to the International Design Forum last month in Dubai. The resort would resemble a cloud floating 300 meters in the sky, supported by slanted columns looking like rain.
Like all architecture that is new but "not new" , it has historical roots. It follows the philosophy and work of Le Corbusier, the great Swiss Architect who postulated that man is wholly separate from his environment, that he is "above it" and should be designed for as such. That is where the concept of "machine architecture" came from; and it lies in the exact opposite direction from Frank Lloyd Wright, organic architecture (Wright's term), the Prairie style, and almost all green or sustainable architecture of the early 21st century.
The Hotel in the Clouds is just a concept for now. It is both seductive and dangerous, saying to its ($10,000 a night?) occupants that you are not of this Earth, nor bound by it's rules and regulations. It exists, in an era of global warming, in an emotional space that man's evolution needs to flee, in my humble opinion.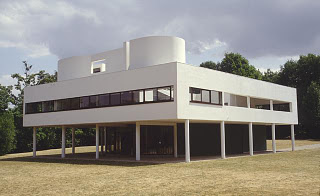 Here is a Le Corbusier project from 1930 that "says" the same thing, the widely celebrated but flawed Villa Savoye. It is no doubt a masterpiece for its time and a point of view. He called his theory of lifestyle machine a habitier, meaning a machine for living. Notice that it doesn't engage its surroundings and almost doesn't touch the ground at all. In its time it was an elegant visualization of mankind pulling itself out of a worldwide depression, lifting itself up from shantytowns and shacks, and in that light has a lot to say about the evolution of design 75 years ago.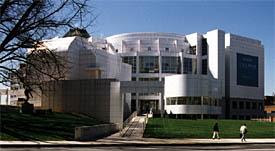 "Corbu's" disciples include Richard Meier, whom I admire, but who can go terribly wrong with this separate from the environment thing when he doesn't have a blank piece of urban ground with which to pluck down a High Museum (in Atlanta) but instead has to grapple with a wonderful piece of raw urban sanctuary and comes up with a "rock on the hill" like
the Getty Center (in Los Angeles), wholly without integration to its site or the city around it.
Any era of enlightenment has its countervailing trends, and I admit that the Hotel in the Clouds is fun to look at and contemplate ( although I wouldn't want to be in charge of cleaning of the column-rain sheets! Fantasy architecture moves the technological and aesthetic ball along its path of evolution, and may in fact have useful ideas buried within its vision.
Another celebrated architect, Ludwig Mies Van der Rohe, used to label his modernist but barren high rises with the famous "less is more" philosophy. In the 21st century that should mean that "less" wasted use of the planet's resources "is more" for our children and grandchildren to inhabit. That is a true calling to a lofty vision of building in our times. In summary, Nadim Karam may get wide praise for his hotel concept, but it is just one more super-rich man's play toy with its head "in the clouds".