The popular culture magazine "Entertainment Weekly" includes a feature that humorously attempts to log current trends in a sidebar called Now/ 5 Minutes Ago/ Out. Last week one of the categories was "Color", and as all followers of fashion can attest a color can indeed be "in" or "out."
By their reckoning pink is so 5 minutes ago (remember Donald Trump's pink power tie?), and purple is in. Well that's great I guess, but not something reliable when it comes to architecture. In architecture, color plays a huge role, and can be subject to whim (retro 50s colors anyone?). More substantially, color is used to provide accent, statement and create mood.
The architectural guru of color in architecture was Mexican architect Luis Barragan, and his disciple Ricardo Legorreta with whom I partnered on several projects is a great intellect in the use of color in architecture. He has a long and distinguished career that in part owes its distinctiveness to his use of color.
Typically, Ricardo starts his commissions with a unifying color, such as a deep earth color found in his native Mexico. Then serendipitously, he will introduce color in a cathedral space or home's interior wall. The colors evoke mood and highlight spaces and their surroundings.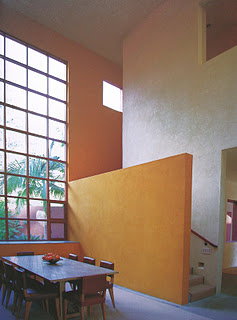 In the case of the Bel Air Residence (a project we shared), Ricardo introduced 2 shades of rich orange to highlight an interior Dining area off a stairway, and evoked a warmth not unlike that of a hearth – dinner around a hearth being a timeless image of warmth.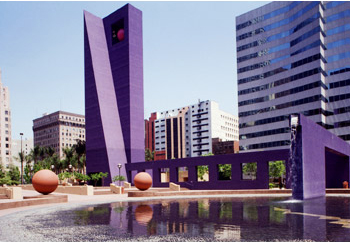 In the Pershing Square project which renovated a historic downtown square in Los Angeles, he used a striking purple to communicate a sense of place in the midst of a forest of highrise buildings.
I designed a small chain of jewelry stores whose specialty was emeralds by introducing green neon pyramids that provided symbolic emeralds as a design theme.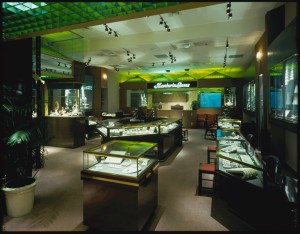 It was a fun way of evoking emotion in the customers, and I was fortunate enough to win a national lighting design award with that design.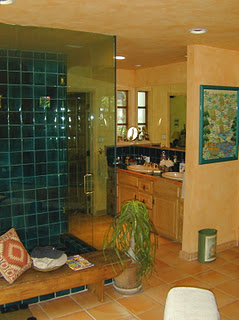 In another case, I accented a Mexican themed Bath Suite which featured terra cotta colored tile and walls with blue green tile and glass at the shower to symbolize water. The reaction of the owners was that it provided a luscious oasis feeling in a small environment (see enclosed photo).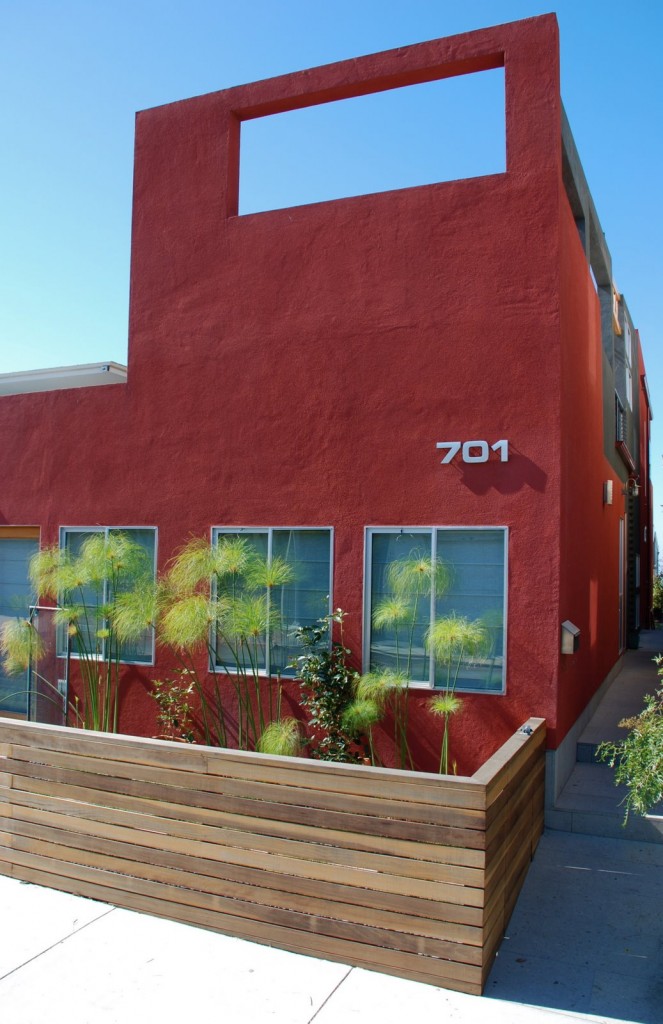 In a Hermosa Beach Residence, I introduced the rich red exterior that evoked the owners grandfather's native soil color in Monterey, Mexico, and accented it with a dusty green that symbolized the native vegetation in Monterey. In the totality of the exterior statement, the residence provides a warm remembrance and homage to the Mexican heritage upon which the owners then built with everything from clay landscape pots to Mexican furniture.
These examples illustrate that color plays a vital role in architecture. We can and do change clothes daily or more. Today's green iPod is tomorrow's red iPod. But with architecture, there is staying power, the power of time to create and enhance our homes, our shops and our public places.
More than any other segment of our daily existence, the colors of architecture are the colors of our lives.