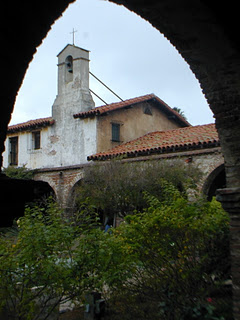 I am a big supporter of the Hollywood screenwriters. True, I have my share of clients and friends who are screenwriters, including some manning the picket lines of the Writers Guild of America strike, but I also count producers among my clients and friends. I think my admiration for screenwriters goes to the difficulty of creation I face as an architect, the everyday job to create, do so insightfully, and on demand.
Whether it is one friend's creating a fantasy world for Mark Hamil to travel down (no, not THAT fantasy world, but a later world called "Slipstream"), another finding words and taut thrillers for Arnold Scwartzenegger, Tommy Lee Jones and Ben Affleck to inhabit, or a client putting comedic words in the mouth of "The Family Guy"; these guys give witness to the Biblical truism that "In the beginning was the Word."
So I thought it might be fun, as an homage to writers near and far, to let you in on a few words of the architectural profession, how they got to be the way they are, and what they mean.
Take the word threshold, that thing we all walk over when we go in our front doors. What exactly IS that thing, and why is it called a threshold? Well, in Elizabethan England, most commoners' houses had dirt floors. These floors would attract the mud and muck of cold and rainy winters as countless boots passed over their entryways. Soon a kind of bog would form at the front door. To counter this mess, householders would by custom put down a layer of thresh or straw near the front door and periodically replace it or stack more on top of the base layer. That solved part of the problem, but created a new one. As time went by, the thresh would spill out the front door and be lost to the street beyond. To prevent that, and hold this muddy layer of thresh inside, carpenters would lay a board or piece of stone under the door to act a s a stop for the wayward straw. This piece which held the thresh in became known, naturally enough, as the thresh-hold.
During this same time in history, there arose a term that started out as "architecture" but ended up as a kind of description of a flood. In the 16th century ( and long before), the problem of how to roof a house was easily solved by finding a good quantity of thatch, the wonderfully waterproof grass. Architects designed and carpenters built beams across roofs, separated just far enough that boards could be laid on top with (usually) lots of gaps, and then a layer of insulating, protecting thatch above that. Well, as it turned out, the world below the roof in England was a dangerous place, filled with people, horses, carts and all manner of "dangers." Animals such as cats and dogs found refuge living in the thatch above the street, much as cats today hang out "on the roof". That was all well and good (except for the gaps in the boards as I will explain below) until IT RAINED. Those among you who are thatch aficionados know that thatch, when wet tends to get slippery. Thatch at an angle (like on a roof) in a downpour gets REALLY wet, so wet that the dogs and cats would slip off their perches and come tumbling down onto the unsuspecting people below. In such deluges it was truly "raining cats and dogs"!
I also mentioned that there were problems with the gaps in the roof boards, principally that it allowed stuff to fall through the thatch above. Well, with cats and dogs living up there one can imagine what that "stuff" was. It was a big problem, especially for the nicer rooms where bed linens and finery below could easily get spoiled or worse. To the rescue rode the furniture designers of old, who invented a barrier on four poles above the bed to catch the unwanted droppings. Those of you who have already guessed the answer know that I am talking about the classic, canopied 4-poster bed. Not as romantic as our nicest visions of that bed, huh?
Lastly, there is the open courtyard and sometimes lawn adjoining a cloister. From the movies "A Nun's Story" and "Chariots of Fire", everyone has a vision drawn from their screenwriters of these ideallic settings ( see picture). Well its name comes from the Old Norse meaning of yard and the Middle English meaning of a hollow. What is this peaceful, architectural place from which to think, perchance to dream? It is called….a "garth."