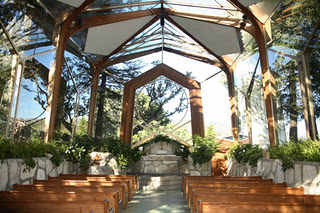 Valentine's Day is by far the most popular day of the year to get engaged; and, according to a survey in the Dallas Morning News, it is also the most popular day to get married (by a 2 1/2 to 1 margin over New Year's Eve and a 3 to 1 margin over June 1st).
Whether the upcoming Valentine's Day cycle is a remembrance of things past (my wife and I got engaged on Valentine's Eve at the highest
restaurant in San Francisco, overlooking the Golden Gate Bridge and San Francisco Bay) or a hope for the near or far future, architecture and pastoral settings are likely to play a big part. Never is the power of architecture and landscape architecture more poignant than when it's form honors faith and romance. Church architecture and their surrounding grounds can uplift in a way that few other types can, providing a saving grace and place for memory to reside.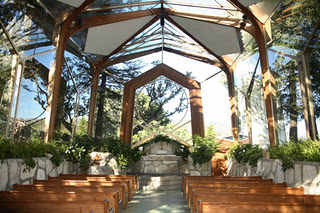 Here in Los Angeles, we have at least 2 world class places worth everyone's trip, and worth considering for those special days in one's lives. Wayfarer's Chapel. on the Palos Verdes Peninsula, is an almost completely glass enclosed church designed in 1949 by Lloyd Wright, the son of Frank Lloyd Wright. It's beauty lies in it's simplicity and it's graceful continence, rising from the ground with low walls of native Palos Verdes Stone (think sandstone) upon which sit upward soaring wood timbers. The glue-laminated timbers create both the pillars of the walls and the beams of the roof in one grand sweeping gesture.
Everywhere else there is glass; glass walls, glass roof, glass symbolism.
Lloyd Wright's design inspiration was the majestic redwood forests of Northern California, and he nicknamed his design the "tree chapel". It exists as the foremost example of organic architecture of the post-World War 2 era in LA design. To say it is a popular wedding destination is an understatement.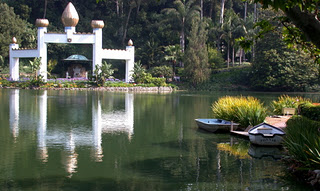 Self Realization Fellowship Lakeshrine is a more pastoral setting, if that is possible. Part of a religious teaching founded by Paramahansa Yogananda in 1920, but open to all, it is comprised of a lake with swans, a waterfall, a windmill chapel, various gardens and wa
lkways, and a lawn area housing the ashes of Mahatma Gandhi and the site of thousands of weddings. It is nestled near the Pacific Palisades beaches where Sunset Blvd. works it's way to the Pacific Ocean.To walk its grounds is to change one's life and/ or one's outlook, for a moment or for the length of a memory.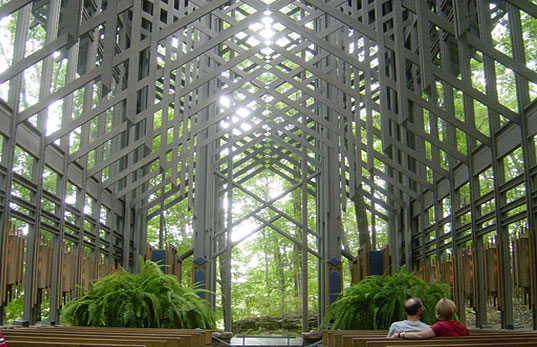 Beautiful places to mark special events exist far and near. Some of the most beautiful church architecture of the last half century was created by the late great Arkansas architect E. Fay Jones. His crowning achievement is Thorncrown Chapel in Eureka Springs, Arkansas, and to enter it's embrace is like entering a groove of trees. It and others like it earned Jones the AIA Gold Medal, the highest honor the profession bestows. It is not surprising that it was built primarily as a place for weddings and other celebrations.
So it is that Valentine's Day is fast approaching, and with it – for at least a day – a time of bonding which appeals to the better angels of our nature. Architecture and landscape design, at their graceful best, preserve those feelings in a permanent way, emotive places apart and yet part of us for all time.