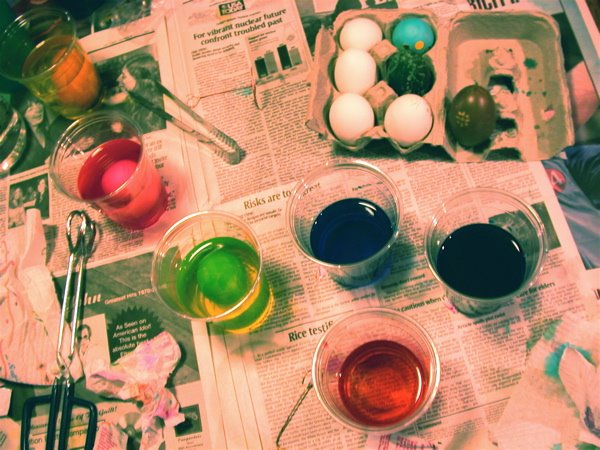 Most people who don't follow architectural trends that closely will not be familiar with one that came and went rather quickly in the late 1970s, Post-modern architecture.
So-named by architectural historian Charles Jencks in his 1977 book The Language of Post Modern Architecture, it was a movement in reaction to the "blandness that had become the remains of the Modern Architecture movement of the 1940s and 50s (you know, high rise boxes that all looked
the same). It spawned terms like "the decorated shed" and heroes like Robert Venturi (Learning From Las Vegas), Charles Moore, and especially Michael Graves.
The most celebrated architect of that era, Frank Gehry of Santa Monica, wasn't really a Post-modernist at all; but rather was and IS a wildly independent iconoclast whose weirdly beautiful undulations like the Walt Disney Concert Hall defy categorization.
I bring this up because I was reminded last night of all of this while COLORING EASTER EGGS WITH MY FAMILY, and yes I think that entire movement was rather like the coloring of Easter eggs. It celebrated the decoration of the form as much as the form itself.
Otherwise sane designers often added cartoon-like decorative ornaments to their buildings, had them colored in combinations that had ZERO relationship to their environment, and had FIERCE rationalizations as to why a certain pattern language was "right" and another one was "wrong". These obscure and ego-driven rules and regulations in the architectural community is not – to say the least – my favorite part of my profession. It has always been so cocktail party argument-like!
Well, I just had to re-visit this silly/significant time period as an Easter Egg homage, and lay in a sample of the architecture of the day. Here are the most famous of the time period, Michael Graves' Portland Building, Charles Moore's Piazza d'Italia in New Orleans, and Philip Johnson's At & T Building in Manhattan (meant to allude to a Chippendale upright cabinet but please don't ask me why?!)


Here in Los Angeles, we have and had lots of examples including Charles Moore's Beverly Hills Civic Center (meant to refer back to classical Italian architecture but in an irreverent way), Frank Gehry's Chiat & Day's advertising company headquarters in Venice (the binoculars, suggested to Frank by friend Claus Oldenberg symbolizes the advertising nature of peeping into your wants and needs – clever, huh?), and even an entry from my portfolio, The Home Shops linen shop in Westside Pavilion, the entry symbolizing (in pink and purple of course!) the arched entryway to a house.
Well, the period was lots of fun, if not all that historically significant. It had one great fallout, which was to get architects over the stuffiness of the austere old Modern Movement. It just goes to prove to all of us, architects included are at one time or another, subject to our inner child of easter egg decorations; in my case as recently as just last night.