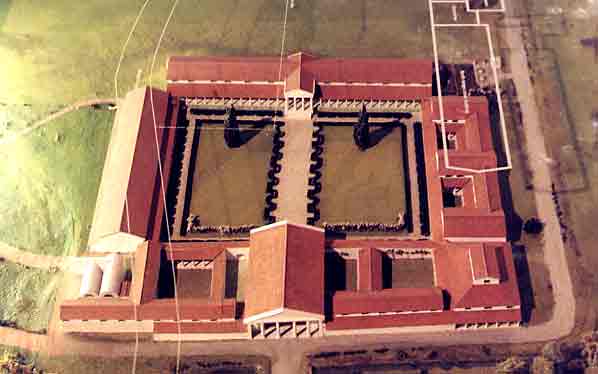 Many of you know of my fascination with etymology, the study of the origins of words. My musings (some would say ramblings) have infested many a social conversation, and even so stalwart a fellow as my brother-in-law once rose from the dinner table after a particularly long tale of the origins of Elizabethan English phrases with a definitive "that's a stupid, stupid story!" His compliment notwithstanding, I have pushed forward.
I was therefore recently reminded of another origin by a new client couple who have taken a keen interest in columns, the architectural kind. We have worked hard in collaboration to create a house that includes columns as architectural elements, columns as definers of a central Concourse, an Entry, and an approach to the house. So this column is inspired by those columns, sitting even now in sketch form on my design table, worked and re-worked to an as yet uncompleted design.
The most famous columns in history are those of the Parthenon in Athens, the classic Doric columns of simplicity and strength, named after Dorus the mythic son of Greek goddess Hellen. Every design student since ancient time has had to learn the difference between Doric, Ionic and Corinthian columns, each more flowery than their predecessors.
This word origin tale is NOT however about the word "column", but has its roots in columns – specifically the Latin columns of ancient Rome.
In Roman high society, the villas of the well-to-do were adorned with columns and colonnades, heavy solid marble statements of opulence (see photo of the Roman villa of Fishbourne). While impressive, these solid marble columns were heavy – very heavy – and had the bad habit of falling over and killing people in earthquakes and other disasters. Architects and craftsmen of the day ultimately hit upon a lighter and safer solution. If one hollowed out the center of the column, it would remain structurally sound but much lighter, and could be capped off with its appropriate tops called the capital and entablature. These lighter columns could be braced more easily. As an added benefit, the smaller stone-like pieces of marble left over from hollowing out of the columns could be combined with cements and glues to make an ancient floor – which they called terrazzo. That made the columns and the flooring ultimately cheaper to produce.
Still, society being society, visitors to the villas of Rome and beyond took to knocking on the columns when entering, creating the natural hollow sound in these safer columns which became a kind of embarrassment as these things go. There was after all still that last, snootiest group of patricians who looked down on those who would dare to save on hollowed columns, though safer. What to do? Well, the clever architects of the day hit upon the idea of filling the voids with an inert but light material that wouldn't sound hollow. Their solution was to fill the columns with wax, then install the caps.
Now all was well with the world of Roman society, right? Not so fast! Snooty is as snooty does, as Forrest Gump might say, even 2000 plus years ago. Although one could fool others (not to say be safer) with a like-sounding hollowed column, still there was a motivated group that stuck mightily to their solid marble columns. Society even came up with a name for this last full measure of one-upsmanship. Those people "at the top" with the more expensive solid, real marble columns were said to be "without wax." The Latin for without wax was sine cera. And so was born, out of the architectural columns of Roman villas, the first homeowners who came to be known as sincere!
Now you have officially been exposed to my hobby of merging architecture, building and the etymology of the terms that give meaning to their world. However, all the same, I may not forward this to my brother-in-law!