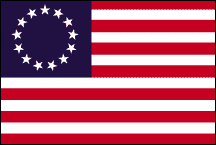 On the rainy and thunderous nights of July 1st and 2nd 1776, Caesar Rodney, critically ill with the facial cancer that would someday take his life, rode urgently from Southern Delaware to the city of Philadelphia.
As part of the three man delegation from Delaware to the Second Continental Congress, he had journeyed to his home region to quiet the discontent which prevailed in that part of the country, but now had heard from colleague Thomas McKean that McKean and George Read were split on the question of whether or not the colonies should declare independence.
Delaware could not complete the unanimous vote of Colonies for independence without his singular, swing vote; and so he rode. The Founding Fathers had decided that only an unanimous vote of the delegations would have the weight to issue a Declaration of Independence from England. So important was this unanimous vote of the Colonies that it is entirely possible upon historic reflection that without it no Declaration of Independence would have been issued on July 4, 1776, if ever.
So with great effort Mr. Rodney reached Philadelphia just in time to give his vote, and thus to secure an entire unanimity of Colonies in that act of treason which changed the world.
John Adams would later write that Rodney was a tall reed of a man, one of the ugliest he had ever known with a head "about the size of a large apple." But, he added, he was resolute, committed and steadfast to the endeavor he faced.
231 years later on this week Caesar Rodney changed the world, may you celebrate and rejoice. May you know that, no matter your place or your circumstances, if you are true to your endeavors for good, whether your deeds are remembered in fireworks like Thomas Jefferson and James Madison or largely forgotten like Caesar Rodney's, you too will change the world.
And so be assured that the sons and daughters of your sons and daughters will celebrate in the fireworks of the future all that you have built for them to stand upon. Happy Independence Day.