I was reminded last week that we as a Nation collectively care a lot about numbers. While dabbling in numerology may be a rarity, I know for sure that 12/31/1999 meant something to almost everyone. Why? Because it was the last day of the Christian millennium, filled with family photos taken on the beach in front of the last millennium sunset (including at our house) and trips to celebrate its passing in the South Seas with tribal chieftains (as enjoyed by a famous client of mine).
Just last week all kinds of good luck marriage ceremonies and lucky trips to Las Vegas happened because it was 07/07/07 on the calendar. There must be something to it, as I showed up at my local Apple store and they had a new supply of iPhones, after being out for days. Now I have one. Hmmmm.
Well, it turns out that there are some architectural numbers in the lifestyle of the American homeowner.
WE'RE NUMBER 1
For starters, a 2006 national survey of homeowners found that the Kitchen had overtaken the Great Room as the number 1 room in importance for the American family. There were a variety of reasons, not the least of which was that newly designed Kitchens are "not your Grandmother's Kitchen anymore."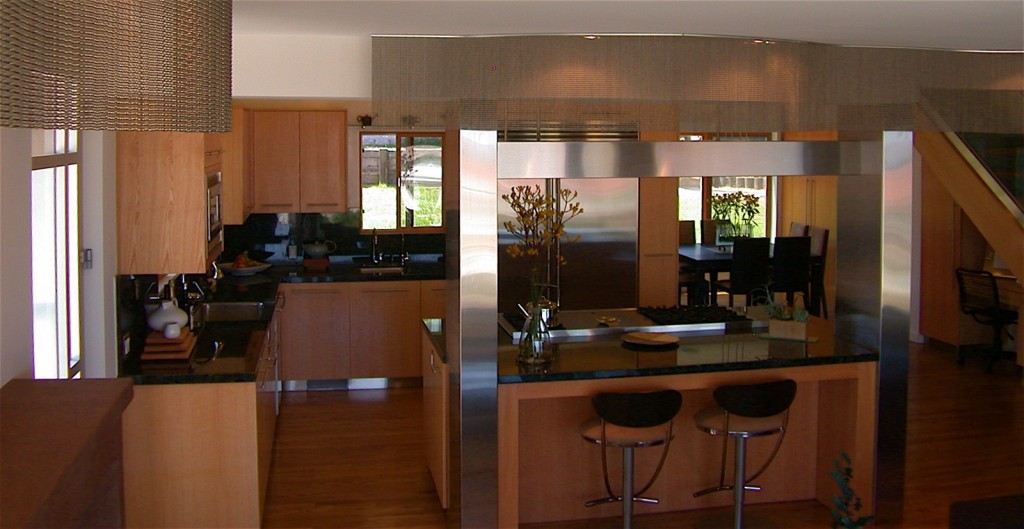 Architects and their clients have loaded the modern Kitchen with a variety of user-friendly features, from the 20 year tradition of micro-wave cooking, to Breakfast Bars, eating islands, in-room media, bill-paying centers, and a variety of high tech appliances including gourmet ranges, industrial refrigeration, wine coolers, dishwasher drawers, trough sinks and many, many more.
In return, America has brought family and friends into the Kitchen for an ever widening variety of activities. Gourmet cooking clubs, wine and cheese gatherings, or just chatting up the cook are common activities cited by my clients as festive reasons to upscale the Kitchen. That and family-centric eating at breakfast bars and island counters have worked to make the Kitchen the winning ticket in more and more lifestyles.
THE SIGN OF THE 4
Another, earlier survey found that the vast majority of American homeowners live in just 4 rooms, no matter the number of rooms they have or ask their architect to design. The trick to that statistic is that it isn't necessarily the same 4 rooms across a single family; but it is interesting to sit and discover what is really important to you. I spend a lot of time in my Home Office, the Master Bedroom, the Media Room and the Kitchen.
If you sit a minute and limit yourself to just 4 rooms, you might be surprised to discover just how important that Master Bath with the fireplace is, or the tiny Library off the Entry. If you are starting a list of rooms or features for a pending remodel or new home construction, looking for "the sign of the 4″is a perfect way to prioritize what otherwise is a daunting array of rooms and needs. The great thing is that there are no wrong answers!
Give it a try. You might come to a "number" of interesting conclusions.